At part 2 of this series of posts, I've posted the wrong pinout for 6-pin ISP connector.
Thanks goes to Stig Hornang, who e-mailed me a few days ago. He said he spent two hours until he figured out it was wrong. Sorry about your time, Stig, but thank you very much for pointing it out!
I copied the wrong pinout from a PDF (local mirror) that I found at some personal homepage (Wayback Machine). I should have copied it from official documents from Atmel, like the AVR ISP In-System Programmer (Wayback Machine) Schematics or the User Guide (PDF version), or even the AVRISP mkII In-System Programmer User Guide. What's more, even this page has the correct pinout.
Here is the fixed version: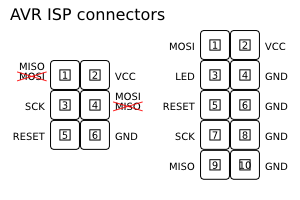 I've already updated the previous posts with the correct pinout.
Sorry for this mistake, and thank you all for making this series of posts so successful.
Go to: part 1, part 2, part 2.1 (video), part 3, part 4 (video), source-code.